It's looking more and more like Apple's next big thing won't be something that fits in your pocket or a bag. Rather it could be another wearable device–specifically an Apple headset that provides augmented and virtual reality.
This strongly rumored Apple VR headset has been dubbed "Reality Pro", but nobody knows for sure what Apple will call the headset, or for that matter, what the Apple headset will do, but a combination of VR and AR looks likely to be offered. Analyst Ming Chi-Kuo said back in 2021 that Apple's "goal is to replace the ‌iPhone‌ with AR in 10 years."
Here's everything we know so far about Apple's rumored mixed-reality headset which could arrive in 2023–perhaps as soon as WWDC in June.
Apple AR/VR headset: Latest rumors
May 22, 2023: Apple has apparently registered trademarks for "xrProOS", "realityproOS", and "realOS" through shell companies (a common tactic with Apple for unannounced products).
May 18, 2023: Mark Gurman discusses Apple's uncertainty as to how successful the headset project will be in a Bloomberg report.
May 16, 2023: Apple appears to have trademarked xrOS in New Zealand using the name of a shell company.
May 15, 2023: Analyst Ming-Chi Kuo claims Apple is "well prepared" for next month's Reality Pro announcement.
April 24 2023: Mark Gurman reports that the battery pack, which is required for operation, is about the size of the MagSafe Battery Pack (about the same as a deck of cards). It has an integrated cable that cannot be removed, and the cable has a magnetic attachment to the headset that "locks in" with a clockwise turn to keep from being knocked off while in use.
Apple AR/VR headset: Release date
The most recent rumors come primarily from Bloomberg's Mark Gurman, who reports that the operating system (xrOS) and other software development for the headset is now in high gear with a release date aimed for 2023. A February 2023 update from Gurman indicates that Apple will unveil the headset at WWDC in June, with a consumer release later in the year.
There is some evidence that Apple is gearing up to launch the device soon. The company is presumed to have trademarked xrOS in New Zealand using a shell company: Deep Dive, which has previously been involved in xrOS trademark activity. Signs that this is Apple include the use of Apple's SF Pro typeface for the letters. The trademark application indicates that Apple is using xrOS not realityOS for the name of the operating system. Apple has also registered trademarks for "xrProOS", "realityproOS", and "realOS".
In January 2023 Apple released a preview version of a "Devices" app for Windows PCs (in which one would manage iPhones and other devices on a Windows PC as iTunes is phased out; Macs use Finder for this task) and Twitter user @aaronp613 discovered references in the code of this release to "Reality OS" and "xrOS", the operating system code names for Apple's Reality headset.
However, what is less clear is whether the headset will be ready for the prime time at launch, or even before the end of 2023. A Financial Times report in March 2023 cited anonymous sources who claimed that while the operations team want to ship the new device as soon as possible, the design team would like to wait and launch a lighter and sleeker version several years down the line. Apple's Tim Cook, said to be frustrated by the time it's taken to get the product to market, has apparently overruled any calls for delay. The FT speculates that in Jony Ive's day nobody would have gone against the recommendations of the design team.
Apple AR/VR headset: Name
A Mark Gurman Bloomberg report on May 18 claimed that his sources had indicated that 'Reality' will be part of the brand, with the first iteration of the headset being called Reality Pro and a more affordable model, that will launch in 2025 being named Reality Once.
It is unclear what the operating system will be called. A company called "Deep Dive LLC," believed to be a shell company for Apple to protect secret projects, filed for trademark on "xrOS" in early May. It then later filed one for "xrProOS." A company named "Immersive Health Solutions LLC" filed for trademarks on "RealityproOS" while a company by the name of "Realityo Systems LLC" filed for the term "realOS." Fujitsu had a trademark on "realOS" since 2006, but that trademark was acquired by Realityo Systems LLC in 2022. Apple often uses small shell companies like these to secure trademarks and the like prior to the announcement of a new product or service.
Apple AR/VR headset: Price
The headset is not expected to actually ship until later this year (and will be an expensive, limited-quantity item at the start).
As far as pricing is concerned, rumors suggest that the first iteration could be an extremely expensive device. Rumors from Bloomberg suggest a price of around $3,000, which will almost certainly keep the product from achieving mass appeal. The next version of the Reality Pro is said to be a significantly cost-reduced model, due a year or two after the first. That model should cut the price in half.
A report by XRDailyNews in late May 2023 indicated that the materials used for the Apple headset will cost around $1,500–the devices will of course cost a lot more than that, due to research and development costs, production, shipping, distribution, and other factors. In comparison the Meta Quest materials cost around $750.
Apple AR/VR headset: What will it do…
We can only speculate at this stage about what Apple's rumored headset will do or be, and whether there is even need for such a device.
At least some people have, apparently, seen the device and have good things to say. For example, Oculus founder Palmer Luckey says it's "so good" and a source of Evan Blass @evleaks on Twitter was initially unimpressed by its "'underwhelming' capabilities", but is now "blown away".
It's not clear which technology the headset will showcase: AR, VR, MR, XR are all different forms of 'reality' that the headset could present to us. Which one will it be or will it be all of them?
VR = Virtual Reality (completely replaces your view)
AR = Augmented Reality (overlays real world with graphics and information)
MR = Mixed Reality (combining AR and VR)
XR = Extended Reality (combining AR, VR and MR)
It seems most likely that we can expect a device that combines AR and VR, although what benefits such a combination would result in aren't clear. For example, the headset could overlay directions on the real world image of the street in front of you, but would a user want to wear a headset if it restricted their view of the outside world? An alternative use could be to join a conference call, but why would meeting people in a virtual environment be any better than watching people on a screen?
Existing devices from the competition include the Microsoft HoloLens and gaming headsets, such as the PlayStation VR2 and Meta Quest 2. The HoloLens is really meant for industries such as healthcare and manufacturing, rather than consumer use (and has a price to match). The gaming headsets are consumer focused, but Apple's gaming prowess is debatable.
Existing Apple apps will be part of xrOS. Apple is said to be focused on various apps and how they can be used with its headset. Alongside games, we can expect Apple to present users with the Books, TV, FaceTime and more apps as well as the ability to access email and messages, and apparently use Fitness and meditation apps. We can't imagine many people will want to do a workout with a headset on though…
Apple AR/VR headset: How it will work
Rumors and leaks have suggested that Apple's headset will incorporate the following technology:
Advanced eye and hand tracking are said to be key features of the device–differentiators to set Reality Pro apart from rival devices. Several external cameras will monitor hand movements, and internal sensors will see where your eyes are looking. You'll be able to control something simply by looking at it, and then pinching your thumb and index finger together to select it. There will be no controllers or other pointing devices.
Bloomberg's Mark Gurman in May 2023 claimed that the user's surroundings will be displayed on screen while an outward-facing display will show eye movement and facial expressions.
The headset will also incorporate gyroscopes and sensors to adjust what you see based on the direction you are facing.
Text input will be done by voice, or using an iPhone, iPad, or Mac keyboard. Eventually, users may be able to simply type in the air to input text, but Apple is apparently still working on that feature and isn't expected to have it available for launch. Unlike Apple Watch, an iPhone will not be required to set up or use Reality Pro.
The headset will apparently be able to smoothly transition between AR and VR modes by dialling a digital crown, can serve as an external display for an connected Mac, and perform many of the functions of an iPhone or iPad.
Apple AR/VR headset: Design
According to Bloomberg's Mark Gurman's sources, Apple had initially wanted the headset to be similar to "a pair of unobtrusive eyeglasses" that "would feel more like a fashion accessory than a computer strapped to your face." However, as per an 18 May 2023 report, Gurman claims the first iteration of the headset will be more like virtual reality (VR) "ski goggles."
This confirms other reports that have indicated that, while the ultimate goal of Apple's AR project is apparently to produce a pair of fashionable smart glasses, the first version will reportedly be much bigger than that, weighing between 300-400 grams, according to Ming-Chi Kuo.
The first-generation Apple headset is therefore expected to be an Oculus-style headset with a knit mesh-wrapped body similar to the AirPods Max. It could look something like a sleeker version of Google's Daydream headset, which also had a soft fabric body.
Apple has filed a patent application for a "head-mounted display unit" that detailed several areas of adjustment, suggesting comfort will be an area of focus.
Apple will also want to make the headset as light as possible. Supposedly the device is made of aluminum, glass, and carbon fiber to minimize weight. In January 2022 Ming-Chi Kuo reported that Apple will be using "pancake" lenses to keep the weight and bulk down.
In order to keep the headset weight down and improve comfort, the headset will require an external battery pack to use. It is said to be similar to the iPhone MagSafe Battery Pack–around the size of a deck of cards. The pack will recharge via USB-C and connect to the headset via a proprietary round magnetic connector that you twist clockwise to lock into place so it doesn't come off during use. The pack is said to last around two hours, so you'll have to use another one for longer sessions.
Curiously, Kuo says Apple is already working on a second-generation model (via 9to5Mac) expected to launch in 2024 with a "significantly lighter" and "updated industrial" design.
The New York Times reported in June that the headset "looks like a pair of ski goggles." The Information says a small digital crown-like wheel on the side will let users seamlessly switch between fully virtual (VR) and seeing their surroundings (AR).
Freelancer.com held a contest for artists to create concepts of what the headset might look like. Take a look at the designs. The winner of the contest was Ahmed Chenni.
Ahmed Chenni, Freelancer.com
Apple AR/VR headset: Audio
According to a report by The Information, the latency for most wireless earbuds or headphones is too high for its purposes, so users will have to use one of two solutions. One is a headband with integrated speakers (much like that on the Meta Quest Pro), the other is to use recent AirPods models, which can enter an "ultra-low latency" mode when connected to the headset. The headset apparently contains the H2 processors (found in the 2nd-gen AirPods Pro).
Apple AR/VR headset: Displays
As a mixed-reality device, Apple's glasses are rumored to handle both virtual and augmented reality via a pair of high-resolution OLED 4K screens made by Sony, including eye-tracking technology. The headset will reportedly feature more than a dozen cameras and sensors, according to The Information, which will project a real-world view onto the screens as if you were looking through clear glass. It will presumably use either OLED or mini LED and incorporate Apple's Ceramic Shield coating as well.
In January, Display Supply Chain Consultants reported that the headset will have "three display modules" comprised of two Micro OLED displays and one AMOLED panel. The AMOLED display is apparently a low-refresh display that faces outward, to show other people your facial expression and reduce the awkwardness of interacting with people wearing the headset.
Small internal motors are said to automatically adjust the lenses and displays to match the users' IPD (inter-pupillary distance, which is how far apart your eyes are), giving a full field of view of 120 degrees.
Apple AR/VR headset: Processor and specs
According to Kuo (via MacRumors), Apple's AR headset will have two processors, with the higher-end processor being a sort of variant on the M2 processor used in Macs and iPads, and the secondary chip responsible for graphics and sensor-related functions for mixed reality. That second chip will be called the "Reality Processor" according to trademark applications. The sounds like a lot of processing power for a headset, but if the headset needs to power a pair of 4K displays, it will need a hefty chip. Reports also say that it will need to be tethered to an iPhone, much like the original Apple Watch.
Kuo also reported that the headset will support Wi-Fi 6E, which is also rumored to come to the iPhone 14. It will also presumably have at least 8GB of RAM and a 256GB hard drive. We don't know anything yet about the battery life, but Kuo says improving battery life will be a focus of the second-generation model. Kuo reports that the headset will come with the same 96W power adapter as the MacBook Pro, which suggests it will have a big battery.
The Information says the device is powered by a main SoC with CPU, GPU, RAM, and storage, along with a secondary custom image signal processor that stitches together all the inputs from all the cameras into a single representation of the outside world, and it communicates with the SoC via a custom ultra-low-latency streaming codec developed by Apple.
The headset is said too employ both short-range and long-range LiDAR to develop a 3D map of your surroundings.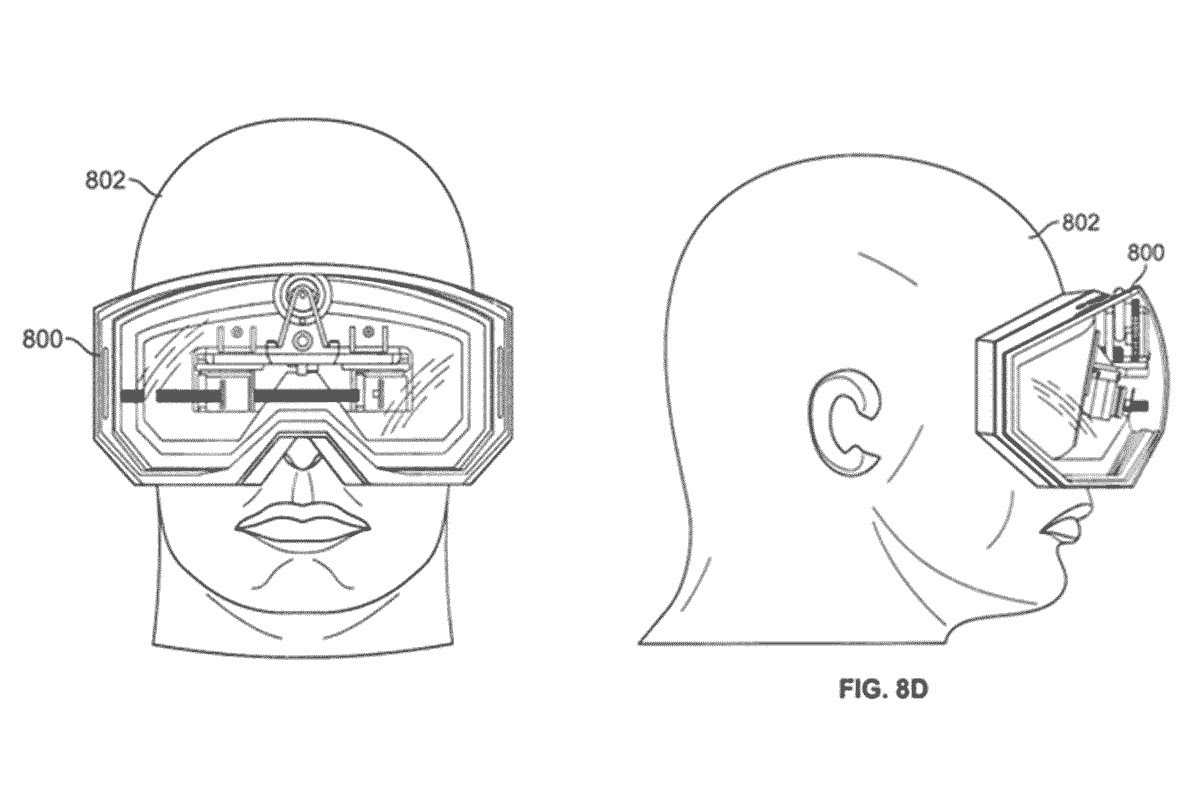 Apple
Apple AR/VR headset: Apps and software
As a mixed-reality device, Apple's headset will also be able to handle both AR and VR applications, which opens the headset up to a variety of apps and services.
A Bloomberg report in April 2023 indicates that Apple has been working with "a small number of developers for months to help them upgrade their existing software for mixed reality" as well as developing AR/VR versions of Apple's core apps. These apps are said to be updated to make use of the mixed reality capabilities of the headset and look like their iPad counterparts.
Apparently every app that comes pre-installed on an iPhone/iPad is going to get a custom app for the Reality Pro, including:
Books
Calendars
Camera
Contacts
FaceTime – create a digital avatar and meet other users in a virtual meeting room.
Fitness – watch a fitness instructor in VR while you work out in a virtual location (might be difficult to work out wearing a headset).
Files
Freeform
GarageBand
Home
iMovie
Keynote
Mail
Maps
Messaging
Notes
Pages
Photos
Reminders
Music
News
Numbers
Safari
Stocks
TV – allowing users to view video content in a 'virtual theater' or other virtual settings like the desert or moon.
Weather
The headset is expected to come with new versions of core apps like Messages and Maps, and reports claim that Apple recently enlisted the head of engineering for its iWork productivity apps, Notes app, and Apple News to work on the headset.
Gurman suggests that the headset will be able to run multiple apps at the same time in floating windows. Apps can be automatically opened as you enter a specific location as well.
Gaming is meant to be a major category for the Reality Pro. Bloomberg's Mark Gurman also said in December 2021 that gaming could have "a strong focus" on the platform as well as "media consumption."
Apple will also surely have apps dedicated to AR, such as the Measure app and things like the tool that lets you see a 3D render of Apple products before you buy it. In a December report, Gurman said the iPhone's Animojis and VR FaceTime could be positioned as "the new-age Zoom."
Apple is expected to feature advanced FaceTime-based video conferencing and virtual meeting rooms that will realistically render a user's face and body in virtual reality. Two users, each with a Reality Pro headset, could have a virtual meeting and feel like they're in the same room, it is said. This requires a lot of processing power and will therefore only be available in one-on-one chats; additional users would be displayed as icons or Memoji.
The New York Times reported in June that Apple "has enlisted Hollywood directors such as Jon Favreau" to develop content for its upcoming headset. The report said Favreau is "working to bring (Prehistoric Planet's) dinosaurs to life on the headset."
We're told that we can expect a software development kit and App Store for third-party applications as well.
Apple AR/VR headset: Will it be a success?
According to Mark Gurman, Apple VIPs such as Craig Federighi and Johny Srouji are skeptical about the headset being a success. Apple has apparently adjusted its goal of selling three million units a year down to 900,000.